Succession Stories Podcast
Insights from transition to transaction — from creating value to letting go.
Succession Stories Podcast
Insights and advice from top industry experts
Insights from transition to transaction — from creating value to letting go.
Why Is Business Succession So Hard?
The award-winning podcast, hosted by Laurie Barkman, the business transition sherpa, M&A advisor, author, and keynote speaker, guides entrepreneurs who are considering leaving their ventures or simply beginning to think about their next steps. When you're ready to sell, the company may not be sell-ready–leaving you out of time and unrewarded. If you want to create a more valuable business, or determine the best way to transition your closely held company, this podcast is for you. Listen weekly as Laurie interviews entrepreneurs and experts for insights to improve company value and overcome the challenges of succession.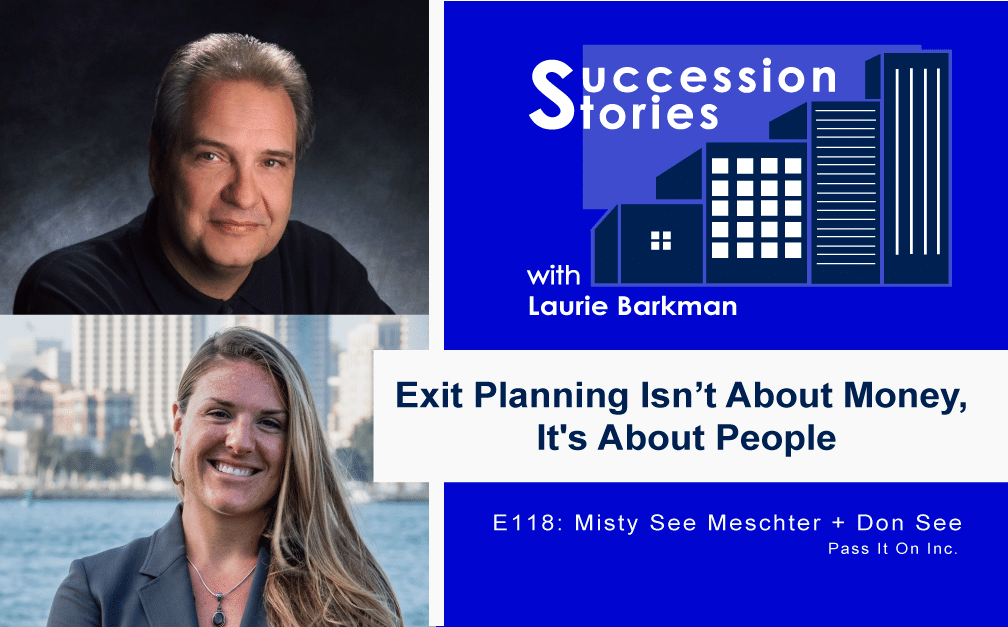 118: Exit Planning Isn't About Money, It's About People
Most successful business owners spend their time running their business. Their expertise is not planning how to exit, or planning what might happen to the company, their family, employees or customers if something unexpectedly happens to them. That is the expertise of Pass It On, Inc. Laurie Barkman speaks with father-daughter team, Don See and Misty Meschter. Their company has helped families think through the potential outcomes of passing it on, and they have forged their own journey through three generations of succession.
Get Succession Stories in Your Inbox Free
Case studies, examples, templates, and tools for business transition, plus notification of new episodes.